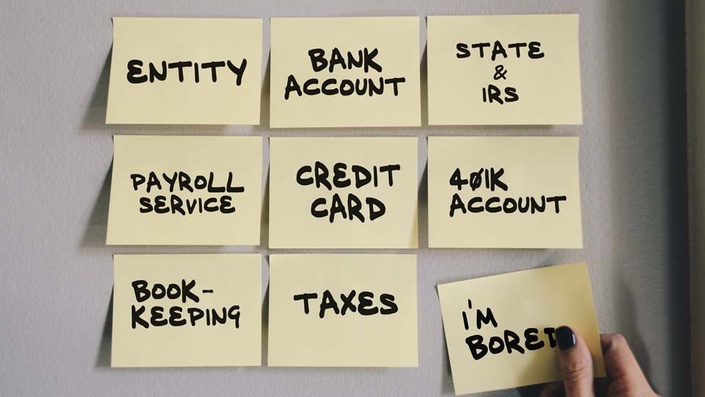 Incorporate Your Business
This course walks you through all the critical steps involved in setting up, and maintaining, your new business entity!
Enroll in Course
FREELANCER or
INDEPENDENT CONTRACTOR?

Did you know that by incorporating yourself, you could possibly save thousands in taxes every year? Not to mention protect your personal assets from frivolous lawsuits! It's true

It's also true that many freelancers and independent contractors don't do this because the process seems costly and confusing, and involves too much time consuming paperwork!
THAT'S WHY WE'VE CREATED...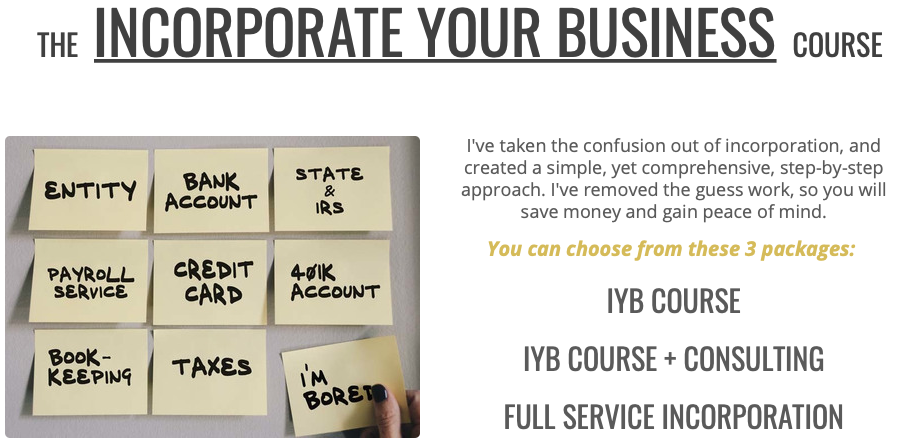 *Always verify any potential tax savings with a licensed CPA. Play Louder is not a licensed tax advisory firm.
TAKE ADVANTAGE OF THE...
(The Intro & Entity Formation Modules)
Please use the "preview" button on the curriculum section, to take the beginning of the course, at no charge. By watching the first entity formation video, you will be walked through "Setting Up an Entity in IncFile"...completely free. If that's all you are interested in, then you don't have to spend a dime!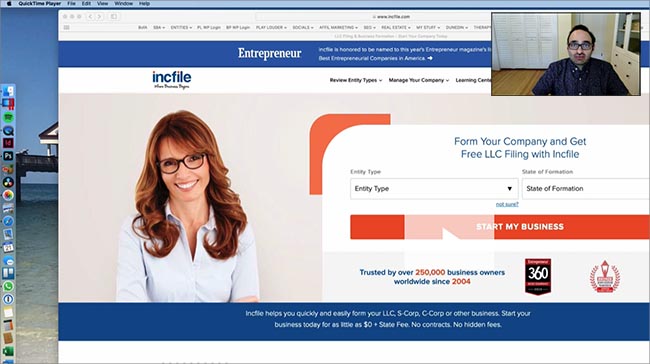 Course Curriculum
INTRODUCTION
Available in days
days after you enroll
1. CREATING YOUR ENITY WITH INCFILE.COM
Available in days
days after you enroll
2. OBTAIN A TAX ID# FROM THE IRS
Available in days
days after you enroll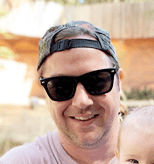 "We recently hired Joe to help with our incorporation, business bookkeeping and tax guidance...turns out we were doing a lot of things wrong. Joe quickly put us on the right path, and is interfacing with our CPA to help us save more. The process was very smooth."
- JOSH MARTIN, FILM DIRECTOR
DOWNLOAD MY HANDY TAX SAVINGS CALCULATOR...
...and take a look at how much you can save over being paid as W2 or 1099!
*Have your CPA verify potential tax savings.
THE PACKAGES INCLUDE...


IYB COURSE

ENTITY CREATION: The initial step is to create your INC or LLC entity. The first video walks you through setting up your entity using IncFile.com, while the second covers your corporate documents.

OBTAIN A FEDERAL TAX ID NUMBER: You'll need to obtain an Employer Identification Number (AKA a Tax ID or EIN) with the IRS, for the purpose of identifying your business, as well as for payroll. This is like the social security number for your business. I'll show you how to do it.

FILING AN S CORP ELECTION: After you obtain your Federal EIN, you will need to apply for your S Corp election with the IRS. I'll walk you through this process.

ESTABLISHING YOUR STATE EMPLOYER ID: You will also need to establish an employer tax account with your state, so you can run payroll for yourself. I will guide you though this process (using FL as an example), and discuss other tax related items you need to be thinking about.

BANK ACCOUNTS & CREDIT CARDS: I will guide you in setting up a bank account for your business (using BofA as an example). I recommend you get a business credit card at this stage as well. I'll explain what specific document you'll need to to do this.

PAYROLL: I'll take you step-by-step through setting up your payroll service with GUSTO, so you can give yourself an annual W2 salary. You'll want to pay for the service every month so that they file your quarterly payroll returns with the Fed and your state.


IYB COURSE & CONSULTING
This option includes all of the above, plus two hours of my time via phone or Skype. We can spend the time discussing issues directly related to your incorporation, or any other topics you would like to cover regarding your business. You can read about the ways I help my various business clients here.


FULL SERVICE INCORPORATION
This package includes the course and consulting, but ultimately comprises of Play Louder handling the entire process for you. We'll discuss your desired goals and approach, then I set out to establish your entity, gather your necessary federal and state account IDs, assist with bank account setup and your payroll setup. I will also guide you on your next best steps in the months to follow, as well as help determine your best approach come tax time.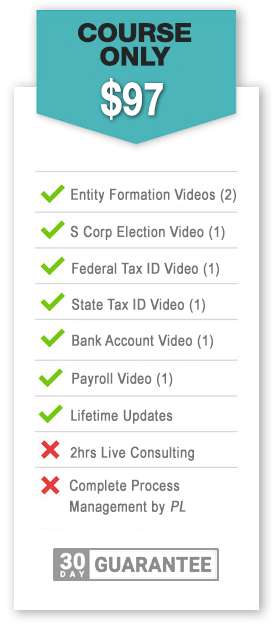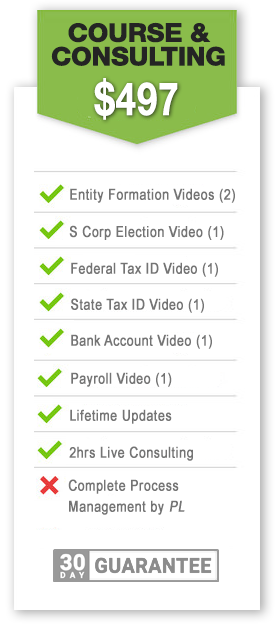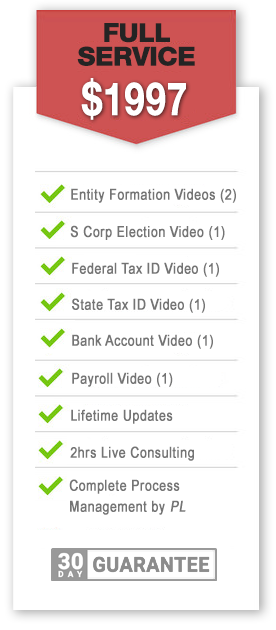 *Each state has a entity creation fee of their own, which will need to be incurred. This cost varies by state.
*The course value itself is guaranteed. Any time I spend consulting with you is not refundable.

"Joe has been my business manager and friend for years now. He is what I like to call a "Business Sherpa." Nine times out of ten, when I have a business question, Joe has an answer. He is an amazing resource of knowledge."
- RYAN MCNEELY, DESIGN COMPANY OWNER
FUTURE CONTENT AT NO EXTRA CHARGE...
As we add these additional videos, the course price will increase, but if you purchase now you'll get them for FREE!


DETERMINING ADDITONAL STATE TAXES & LICENSES REQUIRED: Depending on the nature of your business, your state may require specific licensing for you to operate and/or additional taxes for you to collect and remit.


CREATING A SELF-EMPLOYED 401K ACCOUNT: I will assist you in opening a Self-Employed 401K account. This is a major tool when it comes to tax planning and saving for retirement. And it's free to have!
UNDERSTANDING AND HANDLING YOUR ANNUAL CORPORATE REQUIREMENTS: There are annual filings you will need to do with your state and the IRS, as well as for your own businessrecords. I'll walk you through all of this.


AN OVERVIEW OF BUSINESS BOOKKEEPING: You will need to track the income and expenses for your business. Not only to make tax time easier, but also to understand how your business is doing. I will provide an introduction to bookkeeping using Quicken.

BUSINESS WEBSITE CREATION: Maintaining a simple website is critical to establishing your brand, and keeping your independent contractor status. I can assist you in this process and help make it easy for you.

*Additional content not guaranteed.
Frequently Asked Questions
I'm unsure where to get started. It seems complicated.
Taking on the paperwork to incorporate yourself is definitely challenging. And if it's your first time, you often feel like you "don't know what you don't know." There are two ways around this: take the time to educate yourself, or hire someone that knows what they're doing. The first will be less expensive, but will take significantly more time. The question is...will you actually do it?
Is there a minimum income requirement to incorporate?
No, there is no official income requirement for having an INC or LLC. That said, the entities do have some annual maintenance costs and there is a threshold where tax savings becomes "worth it." That threshold varies based on what exactly your needs are, but I would say 60-80K of annual revenue is a good starting point.
How much time am I actually going to have to spend doing this?
My goal is to limit your time as much as possible, but depending on the package you choose, your time involvement will vary. Thats said, even the course-only package will dramatically reduce the time it would take to educate yourself on this process from scratch.
My finances are kind of a mess. Are you sure you can incorporate me?
Yes! Luckily, your messy finances have nothing to do with your incorporation. But, if you'd like to address your messy financial situation, I offer many additional services listed below...or I can point you in the right direction.
What if I am unhappy with the course?
We would never want you to be unhappy! If you are unsatisfied with the course you can get a full refund within 30 days. (this applies to course only. any time I spend with you will not be refunded.)
How long do I have access to the course?
How does lifetime access sound? After enrolling, you have unlimited access to this course for as long as you like - across any and all devices you own.
Your Instructor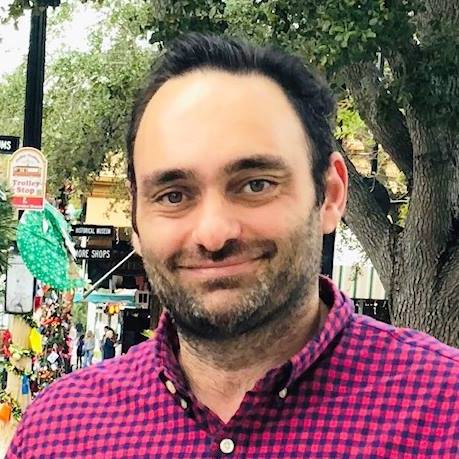 I spent my career in Los Angeles, starting and owning entertainment businesses---primarily Therapy Studios. My major roles were finance, marketing, branding, sales, technology, project management and real estate...ie I was an Executive Producer.
While my wife and I had a great 19 year run in LA, we decided we wanted to slow things down and focus more time on our family. So my partners graciously cashed me out of the businesses, and we moved to a charming town on the FL gulf coast.
My partners were also nice enough to keep me on as a part time consultant, to continue managing the finances from afar, which I am still doing. Then some other friends asked if I would manage the finances for their businesses, so now I have several clients, and consequently a CFO consulting business!
I'm also sharing a lifetime of fiscal know-how via playlouder.com, along with my online courses, to help individuals and business owners increase their net worth and plan better for their future.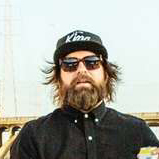 "I hired Joe to handle our business and my personal finances. He is an amazing business manager. He got us organized, created an operating budget, and keeps me on task and well informed regarding our money. He also set up additional corporate entities for us and took care of the whole process. I very much recommend him."
- BRENT NICHOLS, MUSIC COMPANY OWNER
WE CAN ALSO ORGANIZE AND OPTIMIZE
YOUR BUSINESS FINANCES...
(WITH THE FOLLOWING ADDITIONAL SERVICES)
BOOKKEEPING: I can manage all your books: bank accounts, credit cards, loans, investment accounts, etc. I usually do this in Quickbooks, but I'm open to other software. I'll track things like your assets, liabilities and net worth, then report on the progress, and suggest ways you can improve.

ANALYSIS: I will review your company finances and analyze the results. We'll have discussions about what's working, what's not, and brainstorm any ideas to improve. We'll also review all your expenditures, create an operating budget and figure how much money you need to be making every month.

TAXES: You will need to file a tax return for your business (and yourself) at the end of the year. You can do this with an accountant, enrolled agent, or licensed tax preparer, or even through a service like H&R block or Turbotax depending on your situation. I can get you prepared for your tax return submissions.

PLANNING: I'll help make sense of your overall financial picture. I will also share my knowledge and support you through the various aspects of both business and personal finance including: budgeting, saving, investing, real estate, trust planning, asset protection and retirement.

ADDITIONAL CONSULTING: I have extensive experience in finance, marketing, branding, SEO, operations, technology and real estate. All of my knowledge and experience can be at your disposal.